Herbal Fly Repellent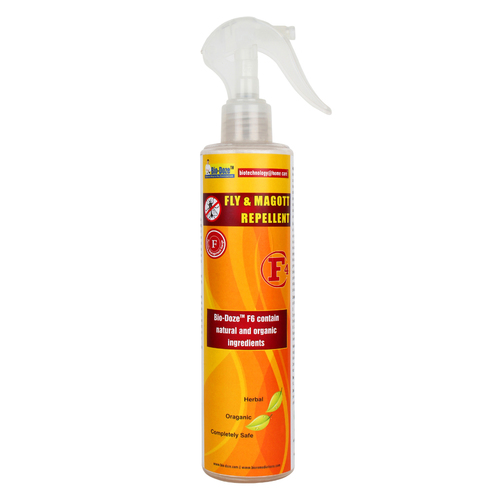 Herbal Fly Repellent
Price And Quantity
Kilograms/Kilograms

50-200
Kilograms/Kilograms

165.00 - 600.00 INR
Product Description
Herbal Fly Repellent acts as a very popular natural repellent against flies, mosquitoes and other flying insects. This repellent not only does it beautify, but it is environmentally friendly with aroma therapeutic benefits. This repellent provides an excellent alternative to chemical based sprays. This repellent doesnt harm the skin of children and others, when used. Herbal Fly Repellent is non-toxic, safe for the environment, around children and pets. This repellent help prevent and control the outbreak of insect-borne diseases such as malaria, Lyme disease, dengue fever, bubonic plague, river blindness and West Nile fever. This repellent is very cost effective and economical to use.
Application Areas: Bio-DozeTM F4 is a specialized natural product for repelling for use in animal sheds, slaughter houses, kitchens and hotels. House flies, soldier flies and other non-biting flies can and often do become a problem in poultry buildings. They do not bite or feed on the pet animals or humans but may carry pathogens because of their habit of feeding on kitchen waste, dead birds and other waste materials.
Bio-DozeTM F4 is effective in controlling and repelling many pests that include argentine ant, carpenter ant, fire ant, odorous house ant, pavement ant, pharaoh ant, pine tree ant, thief ant, velvety tree ant, carpet beetles, fur beetle, varied carpet beetle, firebrats, flea, flies, fruit flies, blue bottle fly, green bottle fly, house fly, hornet, mealworm beetle, moles, opossums, raccoons, red spiders, spider beetle, woodlouse, wasp, bedbugs, woodworms, death watch beetle, furniture beetle, weevil, woolly bear.

Composition: Bio-DozeTM F4 comprises of natural and organic ingredients: Anise Oil, Cedar Oil, Chelating Agents, Chrysanthemum Oil, Citronella Oil, Clove Oil, Emulsifiers, Eucalyptus Oil, Garlic Oil, Jojoba Oil, Lavender Oil, Orange Oil, Peppermint Oil, Rape Seed Oil, Soy Oil, Surfactants, Sweeteners, Thymol Oil and Tulsi Oil.


Features & Benefits:

Control fly and maggots
Improve decomposition
Reduce pathogens
Remove bad odor
No Chemicals, totally Organic and safe on the food, skin
Method of Application & Dosage: Bio-DozeTM F4 is formulated as a fine free flowing Emulsifiable concentrate and easy to spray / apply by mixing in water. F4 is to be mixed @ 1 ml per Litre of water and be applied as spray inside and outside area once day. It immediately starts repels Houseflies and other obnoxious insects. Repeat the application on re-occurrence of insects
Limitations: This product is no replacement for good sanitation practices to remove fly breeding areas,
Packing: In the unit size of 200ml sprayer
Shelf Life & Storage: Shelf life is 18 months from the date of manufacturing in unopened condition. Store in a cool & dry place.
Health & Safety Precautions: Keep away from children and pet animals. No known skin effects. Do not take internally. Use with adequate ventilation. Avoid contact with eyes.